Ibrahim Masood
CIO & Senior Portfolio Manager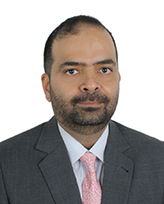 Mr. Masood is the CIO and Senior Portfolio Manager with Aventicum Capital Management (Qatar), where he manages long-only equity strategies focused on the Fund region.
Previously, Mr. Masood was a Director and Senior Investment Officer in Asset Management for Mashreq where he had the overall responsibility of managing all equity funds and portfolios. Among others, Mr. Masood managed the Makaseb Emirates Opportunities Fund, a UAE focused fund, which has won six Lipper awards under the best risk adjusted returns category across three and five year returns. He joined the Investment Management Department of Mashreq in 2003, before joining the Asset Management division in 2005. Prior to joining the Asset Management team he was responsible for the structure, delivery and management of a portfolio of structured investment solutions for over USD 2.25 billion spread over a variety of asset classes, and close to 200 products.
Mr. Masood has been working in the investment management industry for over 17 years having worked on both the sell and buy side. Mr. Masood has extensive experience and in-depth knowledge of Middle Eastern markets having worked in Saudi Arabia and Pakistan. In Saudi Arabia Mr. Masood was responsible for research and international asset management at Rana Investments, a Riyadh based boutique investment house. Prior to moving to Saudi Arabia, he headed the Pakistan research teams for CLSA and Merrill Lynch and was ranked the second best sell side Chemicals Analyst in Asia by the Reuters survey in 2000.
Mr. Masood is a CFA charter holder, and has a MBA from the Institute of Business Administration in Karachi.