Kaushik Rambhiya
Chair of the Investment Committee, Senior Portfolio Manager (Asia)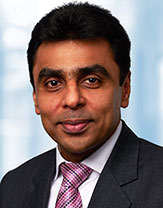 Kaushik Rambhiya is the Chair of the Investment Committee and is responsible for Aventicum's overall investments in emerging markets credit. He has been a member of the Management Committee since May 2016.
Mr. Rambhiya joined Aventicum as a Senior Portfolio Manager in July 2014 from BlueBay Asset Management where he was a senior credit analyst on the Emerging Markets Corporate Team since the strategy's inception at the firm. During his time there, he played an important role as a core member of the investment team which saw the desk grow from a single product $20mm offering to a $5+bn multi-product business.
Prior to joining BlueBay, Mr. Rambhiya served as an Analyst at Fore Research from 2004-08 and focused on opportunities in Europe across capital structure. He also served as a Portfolio Manager managing the firm's Indian equities allocation.
Mr. Rambhiya holds a Bachelors degree in Accounting and Economics from Mumbai University, an MBA from Mumbai University and a Masters in Finance from Boston College. He is also a CFA Charter holder.