Sergio Delgado
Senior Portfolio Manager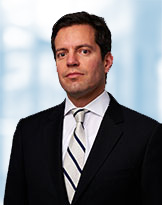 Sergio Delgado is a Senior Portfolio Manager at Aventicum focused on corporate credit investments in Latin America and is a member of the Investment Committee.
Mr. Delgado joined Aventicum in June 2014 from Blackrock, where he worked as a Director sourcing non-core investment opportunities and advising private and public financial institutions on restructuring problematic credit exposures in Spain, Greece and the Netherlands.
Prior to this, Mr. Delgado was a Proprietary Trader at Credit Suisse from 2006-09 focused on Global Emerging Market High Yield and Distressed Debt.
Before joining Credit Suisse, Mr. Delgado was a Senior Analyst in Distressed Products Group at Deutsche Bank from 2004-05, where he focused on distressed corporate debt in Latin America.
He holds a Bachelor degree in Business Administration from the Instituto Tecnologico Autonomo de Mexico and an MBA from MIT's Sloan School of Management.