Thomas Fitzpatrick
Managing Partner, Head of Emerging Markets Credit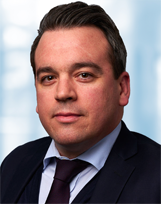 Thomas Fitzpatrick is the Managing Partner of the emerging markets division of Aventicum and is responsible for managing all activities of Aventicum Capital Management (UK) LLP. Mr. Fitzpatrick, who is the Vice Chair of the Investment Committee, joined Aventicum in June 2014 as a Senior Portfolio Manager and a member of the Management Committee.
Prior to Aventicum, Mr. Fitzpatrick spent a decade managing global/regional emerging market corporate bond and derivative trading businesses in London/New York at Deutsche Bank (2005-09), HSBC (2010-13) and Jefferies (2013-14). His roles included managing proprietary risk exposures, overseeing market-making activities and overseeing personnel.
Prior to the sell-side, he was a Portfolio Manager/Proprietary Trader for Deutsche's Principal Strategies Group within the Cross Markets Arbitrage proprietary trading desk (New York/London 2004-05). He was responsible for an absolute return, global corporate credit arbitrage portfolio with substantial emerging market exposures.
Prior to Deutsche, he began his career on the US Fixed Income Portfolio Management Team at Goldman Sachs Asset Management in New York. He initially served as a desk analyst to various senior portfolio managers (1998-2000) and subsequently as the Head Corporate Trader (2001-04). He played key roles in the teams responsible for managing corporate portfolios as well as launching GSAM's initial fixed income hedge funds, CBOs and Enhanced Cash strategies.
He graduated from Yale College in 1998 with a Bachelors degree, double majoring in Economics (Finance) and Fine Art (Sculpture).