Ugo Calcagnini
Senior Portfolio Manager (Trader)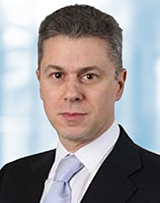 Ugo Calcagnini is a Senior Portfolio Manager, Trader and member of the Investment Committee at Aventicum Capital Management (UK) LLP. His responsiblities are trading and to our Portfolio and Risk Mangament Committee where portfolio optimization, macro / directional risk and hedge fund strategies are determined.
Mr. Calcagnini joined Aventicum in January 2018 after more than two decades managing global emerging market debt flow and proprietary trading businesses at major banks in London. Prior to joining Aventicum, Mr. Calcagnini was the Global Head of EM Credit Flow Trading for EMEA and Asia at VTB Capital. Before that, he was the Head of EM Credit Flow for EMEA and Russian Local Trading at Barclays. Prior to that, he was the Head of External Debt Trading for EMEA and Latin America at Deutsche Bank. He began his career at Lehman Brothers where he was responsible for EM Credit Derivatives trading in EMEA.
He holds a degree (Laurea) in Economics and Business from the University of Rome, Italy as well as a Master of Business Administration from the University of Rochester's (NY, USA) W.E. Simon School.