Zeeshan Ali
Senior Portfolio Manager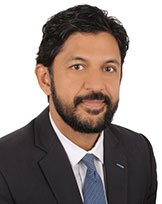 Mr. Ali is a Senior Portfolio Manager with Aventicum Capital Management (Qatar), where he manages the absolute return and hedge fund strategies focused on the MENA & Turkey region and other frontier markets.
Mr. Ali has a 9+ year track record managing a hedge fund strategy focused on the MENAT region while based in the Middle East. Prior to Aventicum, he was the Chief Investment Officer at Globalist Capital Management, a boutique investment manager based in Dubai, where he managed the Globalist MENA Fund (formerly named the Renaissance MENASA Fund), a long/short regional hedge fund.
Prior to joining Globalist/Renaissance, Mr. Ali was the Senior Portfolio Manager of the Constans Crescent Investment Fund, one of the first long/short hedge funds to be focused on the MENA region, with Argent Financial Group International LLP, based in Dubai.
Previously, Mr. Ali worked in New York/Chicago as a Portfolio Manager and Senior Analyst with Aragon Global Management, a global long/short hedge fund founded by a former Soros fund manager.
Mr. Ali began his career as a management consultant with Booz Allen Hamilton in San Francisco before joining Goldman Sachs in New York in their M&A group focused on the CME sector.
Mr. Ali holds a BA with Honors in Quantitative Economics from Stanford University and a MBA from the Stanford Graduate School of Business.