Bassam Slim
Portfolio Manager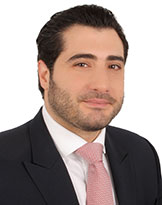 Mr. Slim is a Portfolio Manager with ACMQ with responsibilities including co-managing long-only equity strategies as well as company coverage across the MENAT and other frontier markets.
Prior to that, Mr. Slim spent a short while with Abraaj Capital as part of the large cap buyout investment team as an Associate and was a key contributor to the execution of the PE firm's first investment in the insurance space.
Mr. Slim started his career as an Analyst with EFG-Hermes' Asset Management department as a member of the investment team with the responsibility for covering stocks across various sectors within the MENA region.
Bassam holds a BE in Electrical and Computer Engineering from the American University of Beirut.